Working with search refinements
refinements help your website visitors limit the search scope (for example, by searching for PDF documents only), without entering search operators manually.
Every available refinement type is displayed under the search bar in the form of a pseudo-link. When you click on the pseudo-link, a window opens with a list of possible refinements to chose from.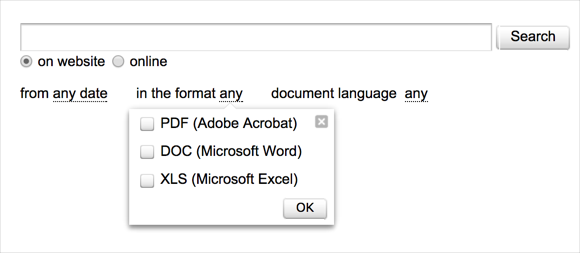 Site Search accommodates the following refinement types:
document date refinements limit search results to pages that were edited within the date range entered by the visitor (please note that the effectiveness of this setting depends on the accuracy of the information returned by the web server where the site is located)

site section refinements limit search results to a specific section (catalog) of the site, for example, http://mysite.com/about/

keyword refinements specify the set of keyword phrases that the site visitor can add to their search request

document format refinements limit search results to documents in the indicated format

document language refinements limit search results to pages in the languages selected by the visitor

custom refinements add search operators specified by you to the request
You can use up to 5 refinement types simultaneously for one search form, including custom refinements. Each form can have up to 100 restrictions of each type.