Questions about statistics
Impressions for the day when the campaign was automatically stopped
This may happen when ads are displayed on one day and the clicks generated by the ads were made on another day. For example, if a user entered a search query and saw your ad at 23:59, but only clicked on it at 00:01, then the impression and click will show up in the statistics for two different days.
This is also the case when the number of clicks during the day exceeds the number of impressions.
Discrepancies in data
Data on clicks on the campaign page may differ from data shown on other pages.
On the campaign page in the bid setting section, only clicks for the last 28 days for the ad are shown. For "regular" ads, these are clicks are from search results for desktop PCs and tablets, while for mobile ads, these are clicks from search results on smartphones. If the ad group has both "regular" and mobile ads, the combined data is displayed.
In most cases, clients notice differences in clicks:
From the "My campaigns" page

The page for a specific ad campaign shows only the keywords for which there are ad impressions. The figure on the "My campaigns" will take into account all the clicks for the ads for the entire duration of a particular campaign.

Impression statistics and clicks on keywords may not be shown if you:

Refine keywords (impressions will begin when statistics start to accumulate again).
Move your campaign to the archive (accumulated statistics are reset to zero).

All statistical data is saved and return to their previous values when impressions resume.
From statistical reports

On the campaign page, statistics are shown only for search queries which contain keywords set by you, without taking synonyms into account. Statistical reports show clicks for keywords taking into account search queries which do contain synonyms.

By default, statistics for the entire period of your ad campaign on search and in ad networks are shown in the report. This factor also affects the difference in click data. You can configure which time period you want to get a report for.
Why do I see different totals for funds spent in the Yandex.Direct interface and in the API?
When statistics appear in the interface, as well as when calculating totals, the sum total of funds spent is rounded to two decimal places. The values are rounded off before or after the calculation is performed. This depends on whether you are viewing the general or detailed statistics. The total in the API statistics is not rounded off. This may result in slightly different total amounts.
Why is the average CPC displayed in my statistics higher than the Search CPC displayed in the interface?
Your ad is not only displayed for searches that precisely match your keywords, but also for searches that include your keywords as part of the query. Furthermore, the amount and size of competing bids for these searches can vary. Therefore the amount deducted from your account will never be more than the maximum bid you specified.
Why is the total contained in acts greater than the cost of clicks in my statistics?
Acts (service invoices used to close a service transaction in the Russian Federation) are automatically generated at the end of each month. The amounts contained in acts are not subject to revision.
All Yandex.Direct advertising campaigns are regularly checked by an automatic system that protects advertisers from invalid clicks. The statistics for a given campaign may change after a check is performed.
If the total contained in the acts for a given period does not match the cost of the clicks reflected in the statistics, that means that the statistics for that period were revised. The discrepancy in the totals will be taken into account when generating the next act.
Why do the statistics in Yandex.Direct not match the statistics in Yandex.Metrica?
The point of comparing Yandex.Direct's statistics with Yandex.Metrica's special reports on Yandex.Direct is because Yandex.Metrica takes into account all sessions on a site, while Yandex.Direct only factors in clicks on ads.
Before comparing, make sure that your Metrica counter is installed on all pages of your site and linked to all your campaigns in Yandex.Direct.
Data from both Yandex.Direct and Yandex.Metrica may differ, which is normal and should not be cause for concern.
The number of sessions and number of clicks do not match

This difference may be due to the following:

You did not link your Metrica counters to several ad campaigns

There is ad blocking software (such as AdBlock) installed on the browser, operating system, or on the proxy server of the site user, which can stop counters from loading properly

Technical issues such as users leaving the site before the counter has the time to load properly

You added a vCard to your ad, and clicks on that do not lead to a session on your site

In Yandex.Direct's statistics I see one set of Yandex.Metrica data, and in my own counter I see another

In the Yandex.Direct statistics from Yandex.Metrica there is data on page depth, conversion rates, and goal costs. If your site has several counters installed, then Yandex.Metrica will calculate the data for each counter separately, while Yandex.Direct will provide a total for all counters.
Data processing may take more than 10 minutes
The "Statistics by day and General statistics sections contain the overall campaign statistics by default. Check the Detailed ad statistics box to view more detailed information.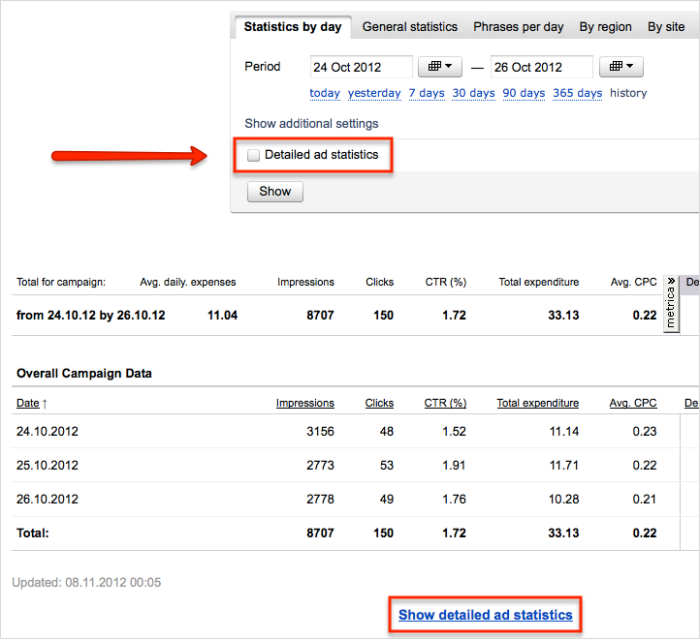 The ad system will then calculate the approximate volume of statistical data required. If the requested amount of data is quite large, it may take a long time to process or cause your browser to crash. This is when a warning will appear. Advertisers can then choose whether they want to receive the statistics in an XLS file, or view them in the browser.

Yandex recommends that you download the file. This process can take between 15 minutes to an hour to generate the XLS report. Once complete, you'll be able to view it at your convenience. You may see the ready report in the XLS Statistics section on the statistics page, where it will remain available for two weeks.

I am getting
"false clicks"
Yandex.Direct uses multi-stage fraud protection that includes both automated and manual filtration methods to protect you from malicious or erroneous clicks. Those clicks, which Yandex.Direct identifies as invalid or erroneous, are not counted in statistical reports, and advertisers are not charged for them. Often, an increase in the number of clicks for an ad may be due to factors described in the section I have noticed a spike in impressions, clicks or expenditure.
I have noticed a spike in impressions, clicks or expenditure
The number of clicks or impressions may have changed sharply for the following reasons:
Changes in the ad campaign

Even minor changes in ad texts and campaign settings (time, display region, strategy), as well as changes in bids can influence your ad statistics. Changes to keywords are of particular importance, as they are the defining condition controlling the serving of your ads. For example, adding a popular phrase to the list of keywords can cause a sharp surge in the number of impressions and clicks.

External factors

To find out what keywords resulted in the majority of clicks, go to the Phrases by day report on the campaign statistics page. If certain phrases noticeably stand out, it may be caused by external factors (such as the current season, TV, the news, technical work, changes in your competitors' bids and so on). You can also use the Yandex.Metrica "Yandex.Direct — summary " report to view specific search queries which led to your website.
If you think your ad campaign has been affected by fraud, please contact us via the form below. You must enter the number of your ad, and the period of time in which you think there were false clicks or impressions on your ad. If your suspicions are confirmed, Yandex will promptly restore funds to your advertising account.
I got clicks and impressions, but no orders or calls
Please pay attention to the quality of your website. To check your site's quality, try using Session Replay in Yandex.Metrica. Session Replay allows you to perform a detailed analysis of user behavior (such as their actions and time spent on your site) and to identify problems in navigation, page logic and site usability.
Often, the cause of weak returns from ad placement can be due to the poor performance of ad campaigns, in that users are unable to find products, services or the terms of service that they are interested in. Please check that you have correctly set your display region and your impression schedule. Also check that your site is free of errors and that you have refined your keywords. Please follow Yandex's recommendations for improving advertising performance.