Yandex.Metrica. Evaluating the performance of ad campaigns
Yandex.Metrica is an analytical tool that helps you find out what users do on your site after clicking your Yandex.Direct ad. You need this information in order to analyze the performance of ads.
What Yandex.Metrica monitors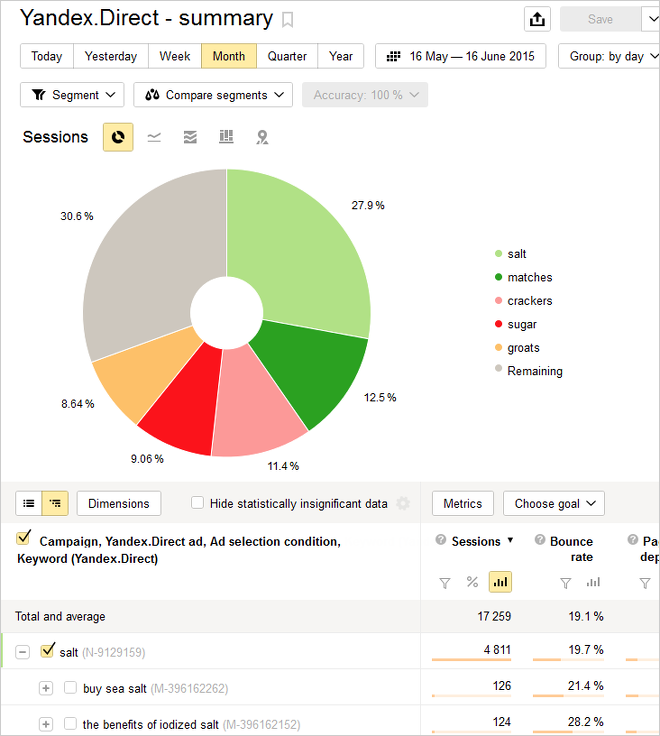 User acquisition

Website audience

Goals and conversions

Revenue

Advertising expenses
How to start collecting statistics
Install the code snippet on all pages of your site as close as possible to the start of the page — this will determine how complete the collected data is. You can verify that you have correctly installed the code snippet in the browser console.

Fill out the Metrica tags field in your ad campaign's settings in Yandex.Direct. This is sufficient for Yandex.Direct and Yandex.Metrica to interact correctly.

If you are creating many campaigns with the same set of tags, you can enter these tags on the user settings page in the Metrica tags for new campaigns field.

If you don't specify tag numbers, then the automatic tagging of links can help you transfer data between Yandex.Direct and Yandex.Metrica. Make sure that in your campaign settings you have enabled the Tag links for Metrica option, and your site correctly opens links containing tags.

How tagging links works

A yclid tag with a unique click number is automatically added to the click-through link for your ad, for example:

http://site.com.tr/?yclid=123456

After a user clicks on your ad, the Metrica tag on your site will track the tag and link the session with a specific click. If there are several tags on your site, the sessions and clicks will be accounted for in each of them, so you will need to factor this in when you evaluate how your ads are performing.

If clicking through on a yclid tag returns an error, configure your site to use arbitrary URL parameters. If you use redirects, please check that the yclid tag redirects to the destination URL.

If you don't have the technical capability to configure your site to work with tagged links, then fill out the Metrica tags field in your campaign settings and disable the Tag links for Metrica option.

Attention.

If you have not filled out the

Metrica tags

field in your campaign settings and the

Tag links for Metrica

option has been disabled, then click data for ads will not end up in Yandex.Metrica, and data from Yandex.Metrica will not end up as Yandex.Direct statistics.
How quickly is data updated in Yandex.Metrica reports?

User actions on your site are reflected in the majority of reports in Yandex.Metrica in the space of just a few minutes. Data for

special Yandex.Direct reports

undergoes additional inspection, meaning such reports will only appear in Yandex.Metrica after a few hours.

How quickly does the data on completed goals become available in Yandex.Direct?

The data on reaching a particular goal becomes available in Yandex.Direct within 24 hours.

Why does data in statistics for Yandex.Direct and for Yandex.Metrica differ?

The point of comparing Yandex.Direct's statistics with Yandex.Metrica's special reports on Yandex.Direct is because Yandex.Metrica takes into account all sessions on a site, while Yandex.Direct only factors in clicks on ads.

Before comparing, make sure that your Metrica tag is installed on all pages of your site and linked to all your campaigns in Yandex.Direct.

Data from Yandex.Direct and Yandex.Metrica may differ; this is normal and should not be a cause for concern.

The number of sessions and number of clicks do not match

This difference may be due to the following:

You are comparing data for different attribution models in Yandex.Direct and Yandex.Metrica

Users have ad blocking software (such as AdBlock) installed on their browsers, operating systems, or on proxy servers, which can stop tags from loading properly.

Technical issues such as users leaving the site before the tag has the time to load properly.

You added a vCard to your ad, and those clicks do not result in website sessions.

In Yandex.Direct's statistics I see one set of Yandex.Metrica data, and in my own tag I see another

Statistics on page depth, conversion indicators, and goal costs from Yandex.Metrica will end up in Yandex.Direct. If your site has several tags installed, then Yandex.Metrica will calculate the data for each tag separately, while Yandex.Direct will provide a total for all tags.
You can also find answers to the following questions in Yandex.Metrica's help:
If you have any other questions regarding Yandex.Metrica, please contact the support service.