How to start using Yandex.Direct
To work with Yandex.Direct, you need to be able to access your Yandex account profile.
If you do not have a login and password yet, please register.
Tip.
We recommend creating a separate username that you will use for working with Yandex.Direct, Yandex.Market, and Yandex.Metrica. Don't use your personal username (for example, an account you use for Yandex.Mail or Yandex.Disk), because you won't be able to move your ads from your personal username to a different one later.
Getting started
There are different types of Yandex.Direct ads. Let's start with the most popular format for contextual ads — Text & Image Ads. These are served in Yandex search results: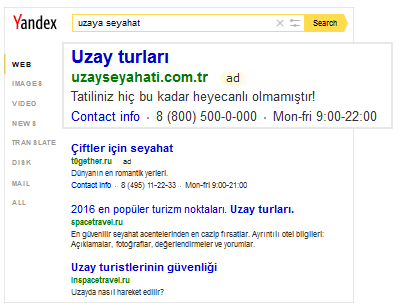 To create this type of ad, follow these steps:
Create an ad campaign and plan your advertising budget.

Create an ad in the campaign: write the ad text, enter your contact information, and choose keywords.