Step 2. Create an ad in the campaign
When you create a campaign, an ad group with a single ad is automatically created. You can add new groups or ads at any time.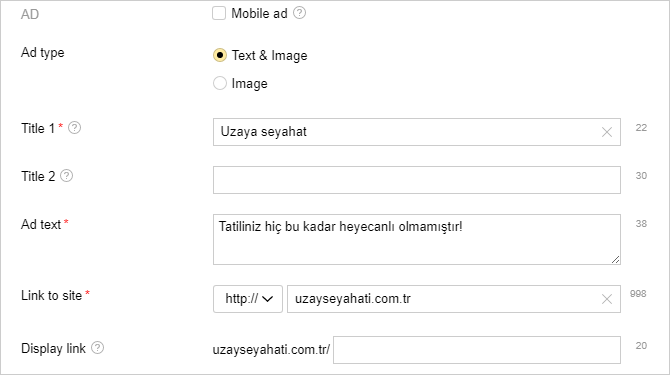 Add the title and text for the ad. Describe your offer and what sets it apart from the competition. Review our ad creation recommendations.
In the Link to site field, enter the webpage address that your ad title will lead to. If you don't have your own website, leave Link to site empty and enter your contact information in Address and telephone number. Users respond better to ads that show the phone number, metro station, and business hours of the company (see more about vCards).

You don't need to fill in the rest of the fields, but the more information you provide, the more effective your ads will be.
Yandex.Direct ads are served when a user's search contains an entire keyword set by the advertiser. You should think about which search terms potential customers might use to find you, and add them as keywords.

Review what your ad is going to look like:

Click Save.
Moderation
After you create your ad, it will be reviewed to make sure it meets all requirements. Click Send to moderation and confirm that you accept the Yandex terms and conditions for publishing your ad.
Moderators usually review an ad within a few hours. Moderators do not work at night. On weekends and holidays, moderation might take longer than on business days.
You will see the moderation results in the interface and they will be emailed to the address you provided when you created the ad campaign.