About Yandex.Direct
Yandex.Direct is a one-stop platform for posting contextual and display advertising that allows you to build a sales funnel and solve marketing tasks at all levels.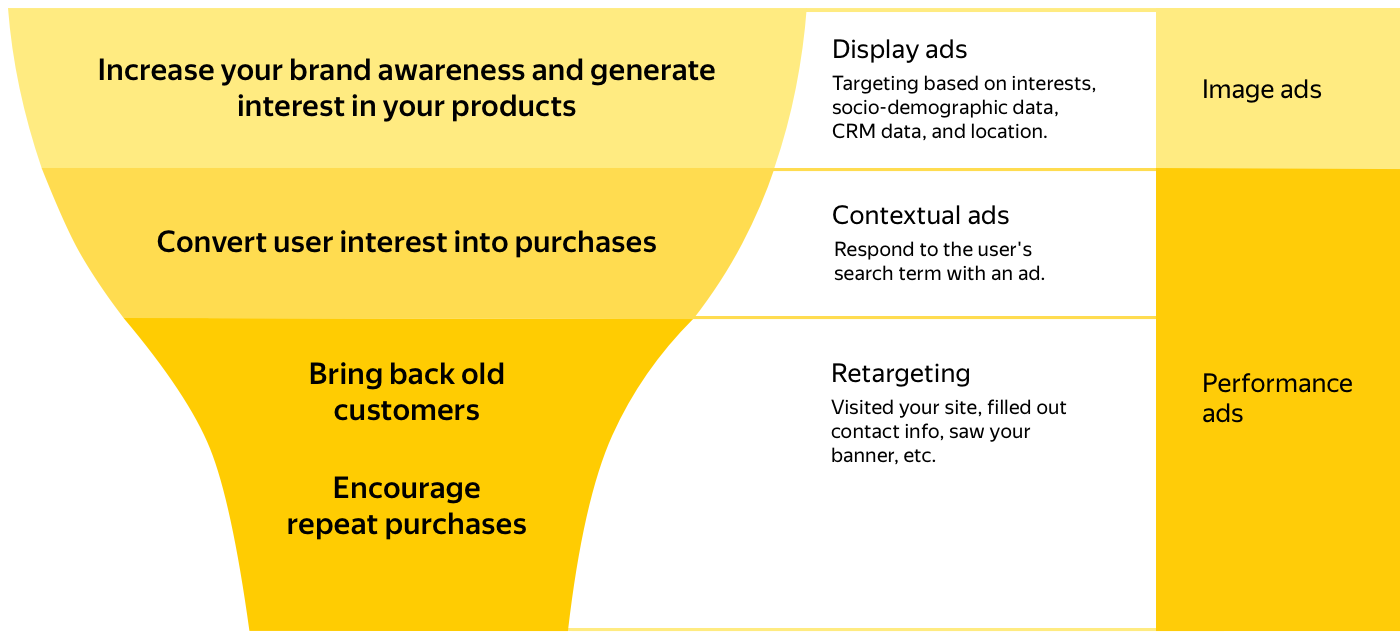 You can set up effective communication scenarios with consumers in Yandex.Direct. For example:
You launch a brand awareness campaign to improve brand recognition.

You target your product ads to people who saw your display banner, video or outdoor ad, and more users visit your site.

You display smart banners to people who viewed products on your website: users come back to your site to make purchases.
Tools for businesses
Set up

Yandex.Metrica

to track user actions on your site and analyze how effective your ads are.

Create

retargeting conditions

based on the Yandex.Metrica data in order to follow up with ads (for instance, show ads to people who added items to their shopping cart but never checked out).

Upload data from your CRM system to

Yandex.Audience

to advertise special offers to your customers.

Use a Yandex.Audience segment and

bid adjustments

to display ads exclusively to your clients and attract new clients to your business.

Create a Yandex.Audience segment based on location data to serve ads to users who live, work, or are located near you now.
Create a

display campaign

to help users form a relationship with your brand. Upload your own creatives or add them using the

Ad Builder

. Use targeting to cover your whole audience.

Add

videoclips

for impressions in the Video Network.
Advertising formats
Design creatives of all sizes in Ad Builder, or upload your own creatives in HTML5, PNG, or JPG formats.

Upload your own video clip: you can film it on your smartphone if it has a good camera, or buy a video from a stock database.

Upload image or HTML5 banners sized 728 × 90 (or 1456 × 180 for high-resolution screens) for display on desktops, and 640 × 134 for mobile devices.

Upload 640 × 100 images or HTML5 banners to be displayed in the Yandex.Metro app for iOS and Android.

Use a video combining a static image with animation elements.

Upload your own video describing a product or service to be served on screens in places like stores, business centers, pharmacies, and universities.

Upload your own audio file: you can record it using a good microphone in a quiet place. Audio is played back in Yandex.Music and Yandex.Radio apps between music tracks.
Yandex.Direct audience
The Yandex.Direct audience comprises tens of millions of unique users every day. Ads are placed in Yandex search results, on Yandex Advertising Network.
| | | |
| --- | --- | --- |
| | | Mobile app |
| Video resources and Smart TV | | Sites |
| | | |
| | | |
| | | |
| | | |
| --- | --- | --- |
| | | Mobile app |
| Video resources and Smart TV | | Sites |
| | | |
| | | |
| | | |